Rust-eze Medicated Bumper Ointment team
Ever wonder who are the awesome people behind cars characters in pixar film were? Read thru this blog to find out and have fun! It's really great to see real model of cars used as references for the characters!
Mack
He is voiced by  John Ratzenberger – it has a real model basis which is 1980s-era Mack Super-Liner truck bearing license plate "RUSTEZ3". He is a friend and driver of Lightning McQueem and he is a dedicated member of the RUSTEZ3 medicated bumper ointment team. And you know what's fun, mack's voice is used in many Pixar films already. John Ratzenberger has been the voice of these characters Mack from "Cars" / Hamm Truck from "Toy Story" / Abominable Snow Plow from "Monsters Inc." / P.T. Flea Car from "A bug"s life".
Here is the image of Mack as a real car Mack Super-Liner truck from Mack Trucks the  American truck–manufacturing company and a former manufacturer of buses and trolley buses.
The exact models:
Cool isn't it? It's feels great to see the real life models of the animated characters from Disney, and well, any 3d characters from known studios like dreamworks, disney/pixar and a lot!
Chuck and McQueen's pit crew
They are the one's who quit when McQueen did not go for pitstop while on the race. They are generic forklifts who are angry, and was not seen for most of the film. They are like Guido but red. Here is one sample of them: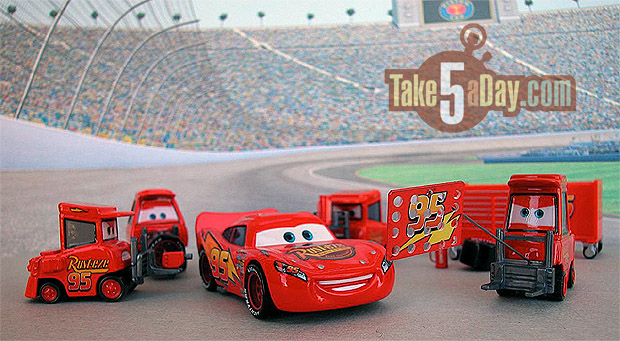 And check this out, the real forklift in red! Thanks to Wikipedia.
Harv
Alright, this car, is not seen on screen, we can only hear his voice. He is Lightning McQueen's agent. The one who was talking to McQueen inside Mack's while they are travelling. Yes that's him, so no need to show the model because he doesn't have a picture.
Rusty and Dusty Rust-eze
Rusty and Dusty, they are the spokescars and owners of Rust-Eze. They are the one's who sponsored Lightning McQueen, and gave him a big break for racing. Every member of the Rust-eze are so delighted to see Lightning. Rusty is a 1963 Dodge Dart and Dusty, a 1964 Dodge A100. They are voiced by real life brothers Tom Magliozzi and Ray Magliozzi of National Public Radio's Car Talk. There is a resemblance in the Dodge dart from an infamous green Dart of Roy Magliozzi which is called "The Dartre. These two brothers appeared 3 times on the film, I can't remember most of them though. The first one of course was when McQueen was introduced in the Rust-eze team.
Some pictures, credits to http://www.webcrawlerblog.com/movie/cars-inspiration-drivers